Your acting CV is one of your marketing tools, so it seems obvious that it should sell you.
When writing or editing your CV it's important to see it from an objective perspective and put yourself in the shoes of an agent or casting director. If you had received your CV among hundreds of others, would it catch your attention (for the right reasons), what story does your CV tell, does your CV make it an easy choice for an agent or casting director to call you in?
It can be difficult to know exactly what agents and casting directors are looking for, but if you remember this one thing it will be your lifeline; everything boils down to money! You are in showBUSINESS after all.
7 tips to improve your acting CV
Is it easy to read? – Use easy to read fonts with titles such as RADIO, TV, FILM being in capitals and bold. Separate Film, Theatre, TV, Radio, Stage work into different columns to make it easy on the eye. Be ruthless in de-cluttering – quality over quantity is always better. You don't need to include credits from years gone by and eventually as you get more work you'll need to delete the productions you did whilst training.
Are your contact details up to date? –  These should be at the top of the page under your name, with a sensible email and your phone number.
Are you selling yourself? – use bold and Italics for awards you've won (or if the production has), have lead in brackets and italics if you played the lead. If your production appeared in a recognised publication include that. It may feel a bit strange at first but remember these are things that will pique the interest of casting directors and agents and SELL YOU.
Can we see you?  – Choose your main headshot to go at the top of your CV next to your contact details. It should be engaging and look like you. Ask yourself do I look like the roles I've played. If most of the roles you play are demure you don't want to be caked in make-up and fake tan on your head shot.
Is your acting CV up to date? –

this is such an easy thing to forget. Get into the habit of updating your CV every time you've finished a project/production.

Is it easy to identify your type? – If your casting type is lead heart throb will a casting director see this from your credits? This is where your CV should tell a coherent story. This is what makes it easy to sell you. Don't make it hard for yourself, casting directors or agents.

Are you unique?

– Does your skills section make you stand out? If you can play lots of different sports get them on your CV. This paints a clear picture and allows a casting director or agent to visualise where you fit in the market. It's the same if you can speak 5 different languages or play an instrument. Your skills could be the difference between you getting the job or not.
If you're unsure on what your CV says about you, ask someone you trust, who understands the industry to take a look and give you constructive feedback.
I'd love to connect with you. If you found this blog useful let me know in the comments below.
Here's to your success!
NEED MORE INSPIRATION & EFFECTIVE ACTOR TIPS?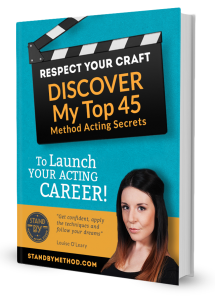 If you found these tips useful, you can grab yourself more tips completely FREE. Louise O'Leary is a professional actress, method acting coach and CEO of StandBy Method Acting Studio. Her mission is to help as many actors as she can achieve their acting dreams and become the best actor they can be. Join the hundreds of actors around the world who have downloaded her eBook "Respect your craft, discover my top 45 method acting secrets to launch your career". bit.ly/free45tipsbook and be on your way to acting success today!
You can also head over to facebook.com/standBymethodactingstudio for inspirational advice and tips every day.
Or if you'd like to work with Louise and join the actors who've transformed their acting ability using the word's most powerful acting technique, you can apply to audition HERE