Many aspiring actors could be mistaken for thinking those actors working regularly in TV, film and theatre were handed their success on a plate. After all lots of these actors (on the surface) seem to come from no-where, yet appear in the industry as if by magic. Whilst each actors journey to "making it" is very different, most actors have faced similar challenges to "secure" their spot in the industry, but what specifically have those "A list" actors done differently and more importantly, what can you learn from it? Read on to discover the 5 secrets of successful actors.
5 SECRETS OF SUCCESSFUL ACTORS
AUDITIONS – Successful actors realise that there are hundreds of other actors going for the same role. They know that when they get to the audition, they have to do something (of value and with integrity) to land them the role.On Getting down to the final 5 out of 400 actors (for the role in This Boy's Life), Leonardo DiCaprio says "I do remember thinking to myself, I gotta do something to stand out". That something that he did caught the eye of Robert DeNiro (who was on the panel), and gave him his breakthrough.
BELIEF – Those actors who have found consistent success have never entertained thoughts of failure. Finding success (which is different for everyone), means having laser focus on what it is you want from an acting career and going at it aggressively and with persistence. Of course all successful people still have those negative thoughts, such as "what if I don't make it?", "what will I do if I don't make it?" the difference is, they don't buy into them. Jennifer Lawrence shares in The Hollywood Reporter's Roundtable: "I don't know if this is why everything has worked so well… but I've always known I would be successful in acting". You too have to have 150% belief in yourself.
CONSISTENT ACTION – The only way to find the success you're after in the acting industry is to take consistent, focused action EVERY.SINGLE.DAY, even when times are tough and you don't feel like it. To find success you must be extremely driven. You must work out WHY you want to be an actor. Your reason why must be so big (in fact bigger than the need to become a professional actor itself) that it makes you get out of bed each morning and bulldoze through the nos because unfortunately they are a big part of being an actor.
TALENT – This goes without saying but… you have to have talent, a whole lot of passion and the ability to allow yourself to be vulnerable. Many people think acting is going to be a walk in the park, but there's more to it than remembering lines. You must know (objectively) what your strengths and weaknesses are and nurture your talent. The actors who are successful don't take their talent for granted, as Jim Carrey says: "If you've got a talent, protect it".  .
FAILURE/REJECTION – No matter whether an actor has won 10 Academy Awards or not, all actors in the public eye, whom you consider to be successful, have failed at something and heard the dreaded no somewhere along the line. Viola Davis openly admits, in an interview with Tom Hanks, she never hit the emotional mark in the last scene of the run of the stage production "Fences". Dustin Hoffman shares with James Lipton how it took him 5 attempts to get into The Actor's Studio. Leonardo DiCaprio shares in his SAG interview how he didn't work for a year when he first started out in the business. The beauty of failure is that you learn and grow, but most importantly are able to change your attitude based upon these experiences. You can't be expected to have all the answers right away.
BONUS TIP FOR SUCCESS
Be you! Don't try to be what you think everyone else wants you to be. Casting directors are looking for that edge. That edge comes from YOU!!
Has this been useful?
Let me know in the comments box below. Want to share this blog with other actors? I'm very happy for you to do that, as long as StandBy Method Acting Studio is credited.
Here's to your success!
Don't give up, just keep learning.
---
NEED MORE INSPIRATION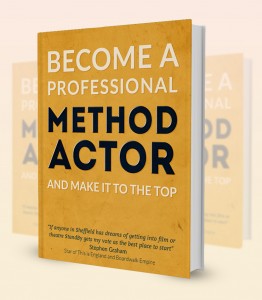 & POWERFUL METHOD ACTING TIPS?
 If you found these tips useful, you can grab yourself more completely FREE.
Louise O'Leary is a professional actress, method acting coach and Artistic Director of StandBy Method Acting Studio. Her mission is to help as many actors as she can launch their careers and become the best actor they can be.
Join the hundreds of actors around the world who have downloaded her FREE eBook "Become a professional Method Actor and make it to the top". Download here and be on your way to a successful acting career!
You can also head over to FACEBOOK to join in the daily conversations, receive inspirational advice and the most powerful method acting tips.