You've not landed the last few jobs, the auditions have dried up, your agent hasn't been in touch for a while (that's if you have a decent agent or an agent at all) and everyone seems to have parts coming out of their ears, except you! 
We've all been there! It can start to wear you down, you question whether you're good enough, get really hacked off that you're not landing the work and that nasty little Green Eyed Monster (GEM) spots an opportunity to make you feel even worst!! I don't need to share examples with you of how Gem starts her bitching because you already know.
What I can tell you is Gem isn't going to help you get any further forward in your career, what she will do is drag you further into despair because she thrives on negative energy and negative energy breeds as fast as bacteria. She can make you
resent those people who are finding success

lose your motivation

 slip into victim mode, "good things never happen to me".
Negative attracts negative. 
To conquer jealousy you need to be aware that negative attracts negative. Have you ever woken up in a crappy mood then one bad thing after another happens? That's because you are stuck in a negative cycle. Once you're in that cycle it can be hard to get out of it. You must realise that you will never find acting success if you are stuck in this way of thinking/feeling. It is scientifically proven that your brain produces different chemicals when feeling negative. Feeling negative is the quickest way to become de-motivated. De-motivated actors fail! Fact! How can you break this?
Re-direct your attention
The best way to break the cycle is by focusing your attention onto something else. What is happening around you? Can you watch a film/YouTube video that makes you laugh? Can you engage in a conversation with someone that has nothing to do with acting? Or can you remember all the reasons you initially started acting? Once you have re-directed your attention you are in a much better place to be productive.
Make a start
Say aloud to yourself all of the qualities you have as an actor. Challenge yourself to think of 5 qualities, then 10, then 15, then 20. It might be hard at first as lots of actors struggle with this, but once you are on a roll you will find your mood and motivation change.
Positive attracts positive
As soon as you are in a positive frame of mind and feeling revved up you feel you can take on the world. You are more likely to achieve your goals in this mood/frame of mind. 
Make a plan
What 3 small things can you do to move forward in your acting career? Remember Rome wasn't built in a day. Write them down; give yourself a (realistic) set amount of time to complete them then take action!
Look at others

Look up your favourite actor's journey to success, find evidence that they too had it tough in the early stages. You are not alone. 99.9% of actors struggle. Seeing your acting idol's struggles should give you hope.

Everyone feels jealous at some point or another, it is a natural human emotion, but it is not one that will help you achieve your dreams. I have been there myself and also used to get jealous, but it made me feel bitter towards those finding success. I realised that I'm not the only one who deserves to have acting success, everyone has the right to achieve their dreams and everyone's journey is different. You have chosen to be in one of the most competitive industries in the world and therefore having a healthy mindset is vital.
The actor has to develop his body. The actor has to work on his voice. But the most important thing the actor has to work on is his mind – STELLA ADLER
I'd love to hear your thoughts on this subject. Pop them in the comments box below.
NEED MORE INSPIRATION & EFFECTIVE ACTOR TIPS?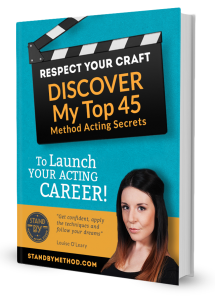 If you found these tips useful, you can grab yourself more tips completely FREE. Louise O'Leary is a professional method actress, acting coach and CEO of StandBy Method Acting Studio. Her mission is to help as many actors as she can achieve their acting dreams and become the best actor they can be. Join the hundreds of actors around the world who have downloaded her eBook "Respect your craft, discover my top 45 method acting secrets to launch your career". bit.ly/free45tipsbook and be on your way to acting success today!
You can also head over to facebook.com/standBymethodactingstudio for inspirational advice and tips every day.
Here's to your success!