Week in week out you'll hear me say that the acting industry is one of the toughest in the world – mainly because it's saturated; there isn't enough work for the number of actors.
There are two things you need to be successful, one is to be pro-active (it goes without saying), the other is to be a master of your craft (it's no good being average).
There are so many actors out there – ones who fit your category so you MUST be an outstanding actor if you're going to stand any chance of "making it". My mini masterclass will give you some of the best method acting tips to help you on your way to being outstanding. Enjoy, Louise!
NEED MORE INSPIRATION & EFFECTIVE ACTOR TIPS?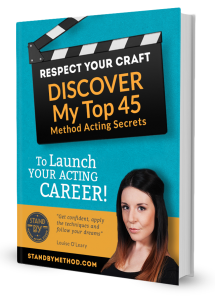 If you found these tips useful, you can grab yourself more tips completely FREE. Louise O'Leary is a professional method actress, acting coach and CEO of StandBy Method Acting Studio. Her mission is to help as many actors as she can achieve their acting dreams and become the best actor they can be. Join the hundreds of actors around the world who have downloaded her eBook "Respect your craft, discover my top 45 method acting secrets to launch your career". bit.ly/free45tipsbook and be on your way to acting success today!
You can also head over to facebook.com/standBymethodactingstudio for inspirational advice and tips every day.
Here's to your success!