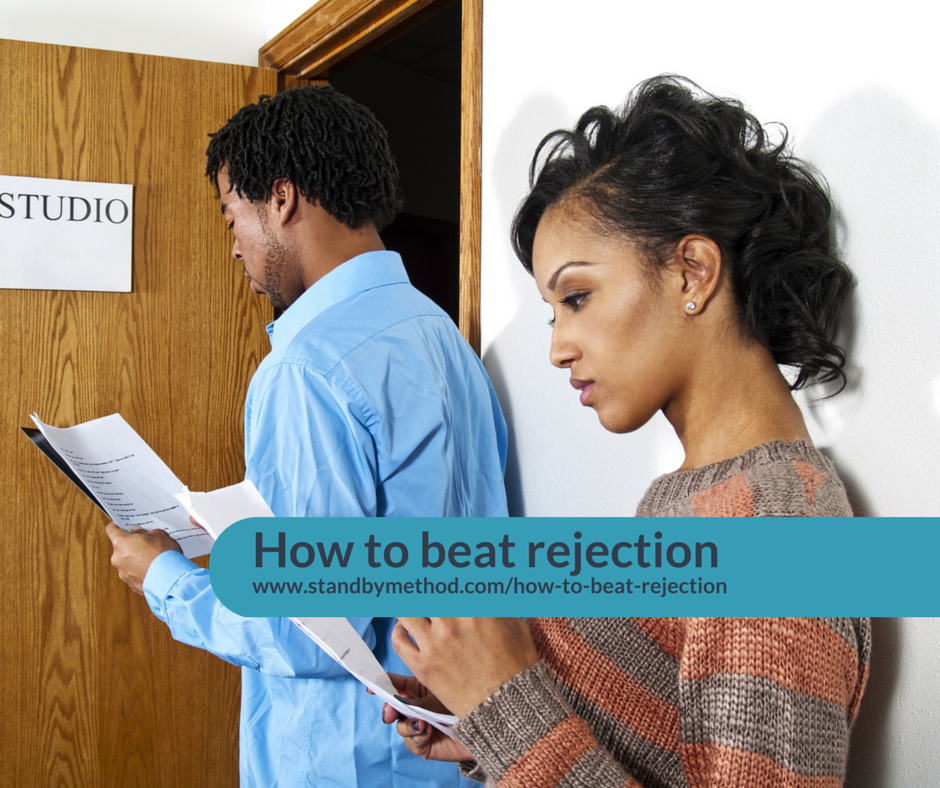 Your weekly method acting blog
To keep you at the top of your game
We all know rejection is part and parcel of the acting industry. I don't think I can name one actor or actress who has landed every single role they've auditioned for. It would be amazing if that happened, but the likelihood… I'll let you answer that one for yourself. 
There are so many actors who were almost on the brink of quitting or did quit, because it wasn't working for them and now they can't move for work; Micheal Fassbender, Dustin Hoffman, Kristan Stewart, Bradley Cooper, Claire Danes… the list is endless. If you can just hold out like these actors did you may surprise yourself, but I know that's easier said than done.
So why do lots of actors find it so difficult to deal with rejection? They:-
TAKE IT PERSONALLY –

whether it be about looks, talent or something else, only you know why you take it personally.

FESTER OVER IT –

think constantly about what you could have done better… if only syndrome.

COMPARE THE COMPETITION –

sometimes to unhealthy degrees

PREDICT THE FUTURE –

"I'm just not cut out for it, I'll never work" syndrome

EMBARRASSMENT – social pressure, this is another role you haven't landed, some actor/actress hey? You measure success by what you think others will think.
FEEL LIKE A FAILURE 
Can you relate to any of those?
This is the point where I would usually ask why are you being so hard on yourself, but I know it's because it means so much to you and I know you feel you just can't do any other job. I genuinely do know, I've been rejected hundreds of times. 
I will share with you my bad reactions to rejection and 4 rejection cures to keep you on track.
My bad reactions to rejection
REJECTION #1 – I auditioned (a long time ago) for a pilot TV series, I REALLY REALLY wanted this role because I GOT her. The character resonated with me. I tootled off to the audition feeling excited. The director asked me about the character – and of course I had done my prep work – so I told him all about her. There was silence and a strange vibe. I wondered what I'd done wrong, the old mind monkeys came out and were telling me I'd completely missed the point with the character.
I was asked to read from the script, so I did and off I went.
I didn't hear anything so I asked for feedback. It was a resounding NO, but get this,  I had educated the director on the character and made him see her in a different light (which they really liked) BUT (this is the crappy part) they were going to use someone else.
This is what it felt like – thanks for giving us a break down on the character and making our job so much easier but we've now found someone better than you who's going to use all your ideas. I was FUMING, LIVID in fact. I had worked so hard on that character, for my chance of playing her to be robbed and for them to blatantly admit they were handing over all my work to this actress on a plate who was given an easy ride. That really cut deep. I over analysed for weeks.
REJECTION #2 – A friend of mine had managed to persuade the director he was working with to give me an audition for a play. Looks wise I didn't suit the character so I knew I had to work hard. I worked hard on my monologues and songs. I had some extra singing lessons to make sure I was on point, I dressed appropriate for the character, I even cancelled my holiday with my friends to go to this audition. I got there and sods law my voice was hoarse. I did the monologues, then it was time for  the songs. I was half way through movie in mind when my sodding voice gave up (after hitting an almighty couldn't get anymore out of tune note). NEEEEXT bellowed around the room and I had to sing my final song – a contemporary choice. Why oh why had I chosen Christina Aguilera and why was this man putting me through this? The only way I could get through it was by belting it, which made my voice worse. 
I was quickly asked to leave, it felt like all the actors waiting outside were sniggering at me (they weren't, but the mind monkeys were having a field day). I didn't even dare ask for feedback, but of course my friend called me to say why I hadn't got the role…. I felt like such a failure. It was (and still is) the worst audition of my life.
I could tell you many more stories, maybe you could share a few of yours. What I really want to do is share with you 4 rejection cures I have learnt over the years to help you keep on track with your acting dreams.
How to beat rejection (and keep your sanity)
Get on with life – 

this is the best advise I was ever given. Once you're out of the room you have absolutely no control over the outcome so rather than ruminating over what's just happened, go and do something that brings you joy. See the people who always lift your spirits, go on an adventure, bake a cake, whatever it is that makes you happy go and do that. This can also be applied after you've received feedback

Reflect –

how can you learn from this experience? What can you take into your next audition to do your absolute best? Don't spend too much time on the reflection process because that can quite easily turn into beating yourself up. Make a mental note for your next audition then go back to tip #1.

Let it go – 

You've reflected, you've learnt, what else can you possibly do? Call the director up and beg for the role? Nope. The moment has gone, you need to forget it now; it's in the past and you will never ever re-live that moment again so there's no point in keeping it alive in your mind, you will drive yourself crazy.

Get back out there – 

Apply for more roles, seriously, you need to build up resilience and the only way to do that is by diving straight back into another audition. 
These are very simple cures but usually the simple ones are the best ones!!
NEED MORE INSPIRATION & EFFECTIVE ACTOR TIPS?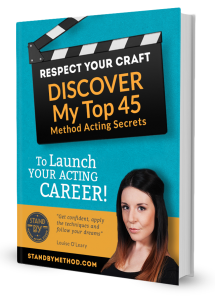 If you found these tips useful, you can grab yourself more tips completely FREE. Louise O'Leary is a professional method actress, acting coach and CEO of StandBy Method Acting Studio. Her mission is to help as many actors as she can achieve their acting dreams and become the best actor they can be. Her eBook "Respect your craft, discover my top 45 method acting secrets to launch your career", has helped hundreds of actors around the world.
It covers how to build a character, the business of acting, how to learn lines effectively and confidence in acting. Download your copy here bit.ly/free45tipsbook to get on your way to acting success. Or head over to facebook.com/standBymethodactingstudio for inspirational advice and tips every day.