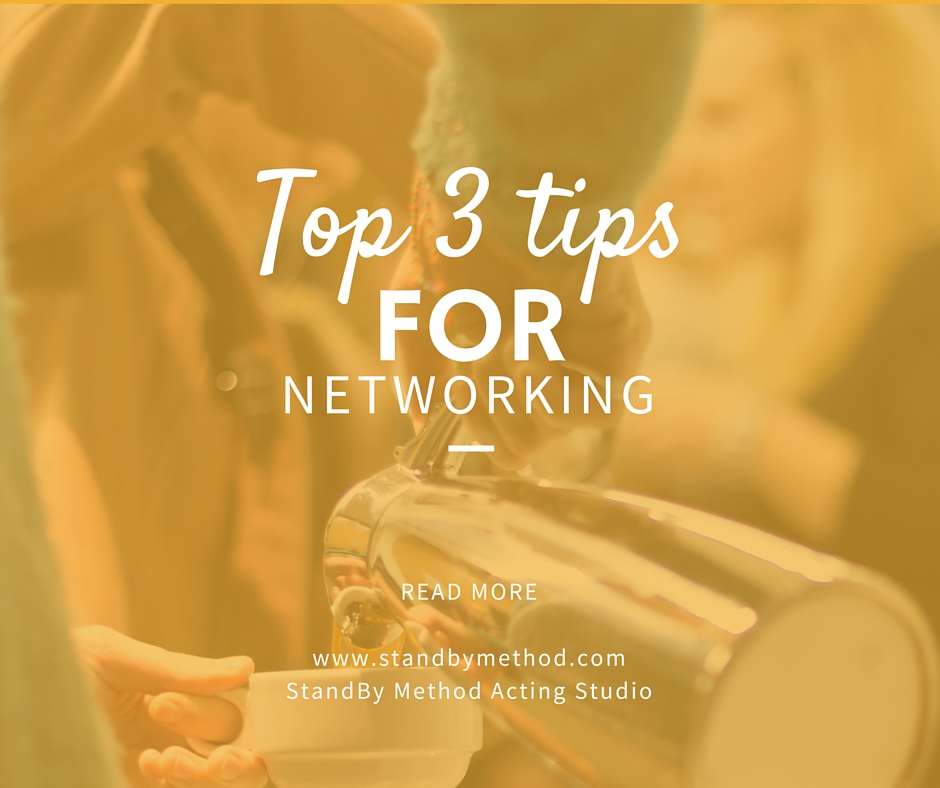 Networking ah good old networking. It is essential if you are to build up your contacts and build up relationships with those who have the power to cast you, but it's also one of those things that, if you're like me, you don't like and to be quite honest aren't very good at. I wish someone had written 3 tips for networking to help me avoid some AWKWARD experiences.
I'll tell you why; it can feel forced, fake and very uncomfortable. I am naturally a shy person, so going up to a stranger and forcing conversation in the hope they may remember me down the line for that lead role just doesn't feel natural. Let's be honest that isn't how networking should be anyway, but most of us go in with the aim of ***I HAVE TO GET SOME WORK OUT OF THIS*** or it's been a complete waste of time.Let's look at the reasons why most actors fail miserably with networking. Can you relate to these pointers? I'm sure you could add many more of your own too…
LACK OF CONFIDENCE

– not knowing what to say to people

STANDING AROUND LIKE A WALLFLOWER

– not knowing who to talk to

BEING PUSHED OUT BY THE LOUD, CONFIDENT PEOPLE

– being 'invisible'

AWKWARD SILENCES

– see all above reasons

NOT KNOWING NETWORKING ETIQUETTE

– maybe from attending very few to zero events

NOT FOLLOWING UP

– not knowing how to, when to or whether to.
Mostly it all boils down to confidence. I'd like to share with you some of the major lowlights of my horrendous networking experiences (I am cringing thinking of them), then I'll share with you 3 powerful tips to get you network savvy.
MY FIRST EVER NETWORKING EXPERIENCE
It stunk, not literally, but was possibly the worst hour of my life. It was straight after graduating from drama school and I have to admit I was a desperate Dan back then thinking I had to be everywhere and anywhere to get the work – that was Mistake #1. Mistake #2 – it was full of actors, with not one casting director, director, producer or agent in sight (read: it was an actors social event covered up as "networking"). Mistake #3 I allowed all the loud and proud actors to dominate, they bragged and bragged (I kid you not) of the meetings they had set up, the work they'd done and who was representing them. I felt like a loser, so I sat there pushed away in a corner with my diet coke in hand and the soundtrack to all by myself on repeat in my head.
MY SECOND NETWORKING EXPERIENCE
The first didn't put me off so I got back down to business. This was at an aftershow party of a play I'd been to see and had managed to sneak into (there were a lot of bigwigs at this one). What was my aim? To get work. MISTAKE #1 – Remember Desperate Dan from the last one? I reaked of desperation, did anyone want to talk about work? Of course not, they all wanted to speak about the play and socialise with the people they knew. I tried and tried to speak to people by including myself in the various circles, nodding away as if I knew what they were talking about, with an interruption of "the play was sensational" at the slightest pause. The conversation soon fizzled out, I just did not know what to say. Should I give them my business card? Would that look desperate? They had done more work than me why would they want it? I was literally having an inner battle with myself and before I knew it, they'd left me and I was stood alone. AWKWARD. Think Bridget Jones
There are more stories and I could go on, but this article would be as long as the Channel tunnel, so what can you learn from my mistakes?
Top 3 tips for networking
BE YOURSELF
It may sound cliche, but this is so important. You don't need to try and impress anyone, you being you is good enough. You don't have to put on any airs and graces or pretend to be someone you're not. People will warm to your authentic self, if you have the confidence to let all your amazing qualities shine through. 
MAKE FRIENDS
Don't go into a networking event with the sole purpose of getting work as I did. Getting work is a by-product. Networking may lead to opportunities it may not. The most important thing you can do is make a friend and build up a relationship. How do you do this? Find common ground & don't talk about work. Girls, you can talk about girl things with the females there. Compliment that dress that person is wearing, ask where they got their hair done (N.B. these must be genuine compliments because kiss arsing can be smelt a mile off). Guys, if you're into sport that is always a good topic. If starting conversations isn't a strong point for you, have a few in mind that you can choose from. Building good relationships is far better than forcing your business card/CV on someone you have never met and remember not to do all the talking. Ask questions, people like to talk about themselves, if you're doing all the talking that can be a major turn off to some people. 
DON'T OVERSTAY YOUR WELCOME
We can all sense when it is time to move on, but some of us still hang around because we're scared that if we do the person will forget about us. When it is time to move on, move on. Networking is good for planting seeds in people's minds. You want that person to have enjoyed your company so that should you meet them again or happen to send your CV/showreel to them, they will remember you in a positive light.
I said 3 tips but here's an extra on for you:-
FOLLOW UP
Don't be scared of this, if someone has given you their business card, they have done so for a reason. Send a quick email to say "Hi XXXX, it was great to meet you at XXXX. I hope you had a good time." You don't have to copy that exactly but keep it short and sweet, it's another way of planting a seed in their mind. 
If you found this useful, let's chat in the comments box below.
Share with your acting friends, it could be just the hing they need to help with their acting dreams
To your success
NEED MORE INSPIRATION & EFFECTIVE ACTOR TIPS?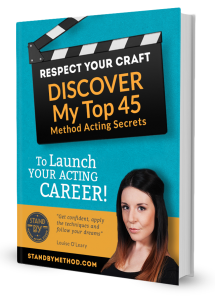 If you found these tips useful, you can grab yourself more tips completely FREE. Louise O'Leary is a professional method actress, acting coach and CEO of StandBy Method Acting Studio. Her mission is to help as many actors as she can achieve their acting dreams and become the best actor they can be. Her eBook "Respect your craft, discover my top 45 method acting secrets to launch your career", has helped hundreds of actors around the world.
It covers how to build a character, the business of acting, how to learn lines effectively and confidence in acting. Download your copy here bit.ly/free45tipsbook to get on your way to acting success. Or head over to facebook.com/standBymethodactingstudio for inspirational advice and tips every day.