Your weekly method acting blog
To keep you at the top of your game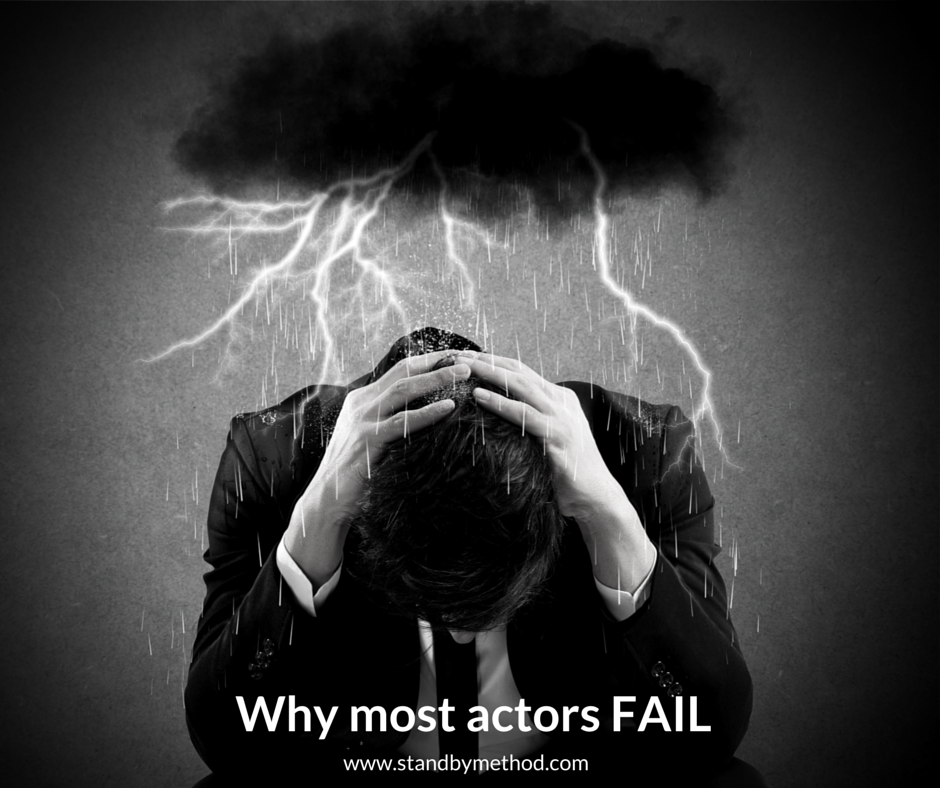 Acting is possibly THE most saturated profession in the world.  I always tell the actors I train it is a difficult industry but it is POSSIBLE. It IS possible. I don't need to tell you that you need to be on point with your technique and craft, that's obvious isn't it?!So what are the reasons most actors fail and can you relate to any of these?
CONFIDENCE 

in self, including looks, ability, comparing self to others

FEAR 

– of being rejected – of being successful (yep you read that right).

NOT STICKING IT OUT

 – think Michael Fassbender (and many other actors), just on the cusp of quitting then bam, success

NOT ENOUGH GROUNDWORK 

– 

learning who's casting what, applying for jobs every single day.

LISTENING TO NEGATIVITY – 

This speaks for itself.
I want to share with you a little story about myself and how I am guilty of all of the above and then I'm going to share with you three super simple GAME-CHANGING tips you can apply RIGHT NOW.
So I was thinking long and hard about this and I had a "sort of" epiphany and it was this; CONFIDENT ACTORS SEEK OUT SUCCESS. What is an actor who doesn't believe in him/herself?
MY STORY
Whilst I was drama school I encountered a couple of comments that stuck with me – of the negative variety and yup, I listened to them AND foolishly believed them. My confidence decided to emigrate to a far off land!! You see, those people will have long forgotten their comments but of course they stuck with me. Why? Because acting was (still is) my life.  
CONFIDENCE
These comments then affected EVERYTHING; with my confidence nowhere in sight I doubted my ability, I looked to the other girls I was training with and automatically assumed they were better than me. I constantly asked myself why couldn't I be like them? This then went onto my looks. I believed that as an actor you have to have a symmetrical face and flawless skin, with perfect pearly white teeth and a perfectly toned size 8 body and a cute little button nose and silky, glossy hair… you get the picture.
FEAR
I was well and truly stuck. No, FROZEN with fear. The comments I'd encountered set me up for failure (or I had allowed them to). I wouldn't apply for roles because in my head I'd already failed the audition before I'd even sent off my CV and cover letter and I QUIT, prematurely. I used to tell people I was taking a break, getting myself back to reality. I even used to convince myself the same. The truth was I longed to be acting whether it be on film or stage. It felt like I'd been kicked in the stomach and my heart ached to be doing what it loves the most. Sounds dramatic but it's the truth. Those were very dark times.
Fear freezes you. It froze me and I don't ever want you to land where I did because I missed out on many years of doing what I love.
So what can you do if you find yourself taking a wrong turn onto failure avenue?
PERSPECTIVE
Put your fears, thoughts, comments and opinions from anyone else into perspective. You see the comments I encountered were only opinions NOT fact (Isn't hindsight a beautiful thing?). Your favourite colour may be blue, I might not like blue. It isn't a fact that blue is the favourite colour of the entire world – just an opinion of some.
Once in perspetive look for evidence that suggests otherwise to your fear, thoughts or those pesky comments. Yes I was rubbish at auditions but that's because I had failed them before I'd even given them a go, I was never going to succeed with my mindset. However, I had still worked, I had been recommended for many jobs. including touring panto, theatre (abroad), film. The comments I'd received couldn't be true or paralyse me for the rest of my life because they weren't constructive and they were in the past. I had received compliments for my acting ability from many people. Looking back the recommendations speak for themselves, who would recommend a rubbish actor?
You do the same; find the evidence against what is showing itself to be "true" if you ever find yourself in a similar situation.
DOCUMENT IT
Create a success journal and write down every single compliment or successful thing you have achieved ranging from what you feel was successful to what you have been told by others. When the mind monkeys want to play havoc with your brain whip out your success journal and batter them with it. Read it from cover to cover until you can feel they have disappeared. You may have to go back to this step many times, it doesn't matter. If you read it enough you will eventually re-wire your brain and you'll become negative comment proof.
AFFIRMATIONS
This might seem a bit airy fairy for some of you but please trust me on this one. Write out positive affirmations that you can say to yourself twice a day. Your affirmation could be "I am a talented, hard working actress/actor whom success comes to easily" or if you're finding that difficult to believe first off you could say "I am a talented, hard working actress/actor who is currently in the process of accomplishing all of my acting dreams". You have to commit to saying this once in a morning and once before bed.
So what did I learn? You certainly can't buy confidence in any acting class or from anyone, but you sure can learn it. As an actor the biggest thing you can do to help yourself achieve those dreams is to be in control of your mind.
What is an actor with confidence? A successful actor! Actors with confidence don't quit, aren't scared, don't listen to negativity, do the ground work and make their dreams cone true and you can be one of those!
NEED MORE INSPIRATION & EFFECTIVE ACTOR TIPS?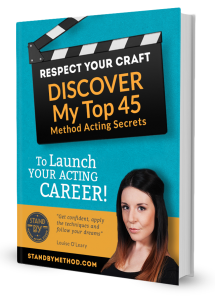 If you found these tips useful, you can grab yourself more tips completely FREE. Louise O'Leary is a professional method actress, acting coach and CEO of StandBy Method Acting Studio. Her mission is to help as many actors as she can achieve their acting dreams and become the best actor they can be. Her eBook "Respect your craft, discover my top 45 method acting secrets to launch your career", has helped hundreds of actors around the world.
It covers how to build a character, the business of acting, how to learn lines effectively and confidence in acting. Download your copy here bit.ly/free45tipsbook to get on your way to acting success. Or head over to facebook.com/standBymethodactingstudio for inspirational advice and tips every day.