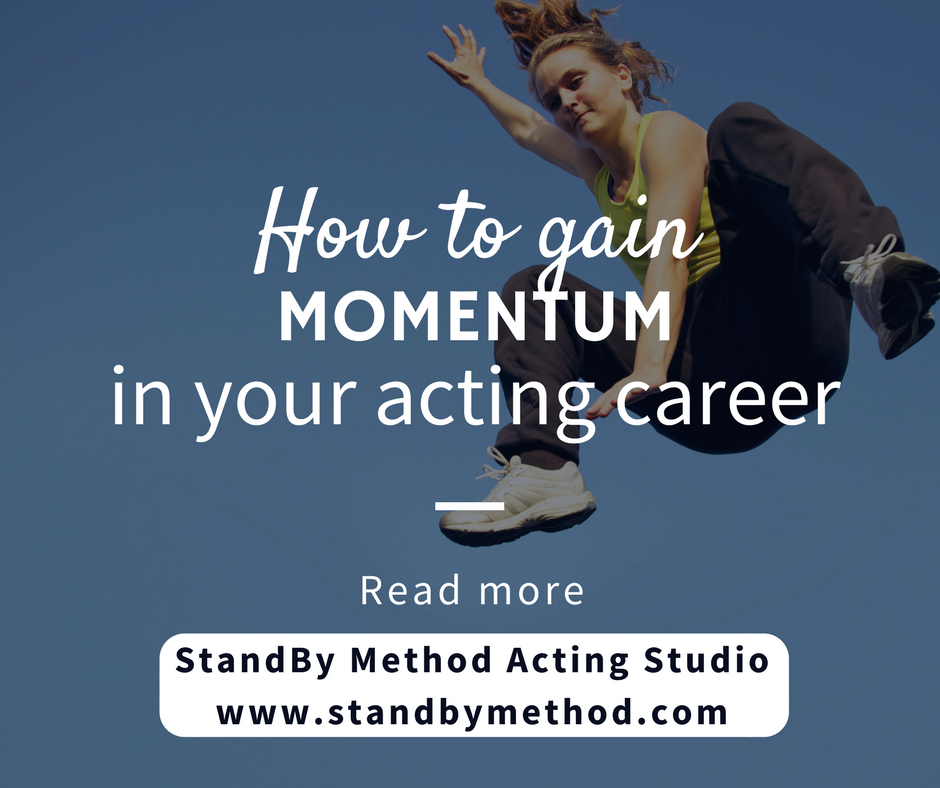 There are two things many actors do with their acting dreams – one is consistently applying for roles and the other is nothing. I'll share a short story with you on the nothing later. Consistently applying for roles is great action to take, however there's still no guarantee that your acting career will pick up speed. The constant rejection can become soul sapping, leaving many actors feeling frustrated, considering the time they've invested into each application. I'm going to share with you some tips on how to gain momentum in your acting career, and I'd love you to get involved and share with me anything you feel I've missed.
Before I share these tips with you I want to head over to the dictionary. I love dictionary definitions because they help us gain clarity on what the heck we're talking about.
MOMENTUM:
the quantity of motion of a moving body, measured as a product of its mass and velocity.

the impetus gained by a moving object:
VELOCITY:
the speed of something in a given direction.
If we base our acting careers on what the dictionary is saying, the amount of action we take will help us start building momentum, taking us towards the success we desire at a much quicker rate. Sounds obvious doesn't it?
WHAT COULD POSSIBLY GO WRONG?
A lot actually! When I first graduated from drama school I was taking a LOT of action: I set up a theatre company with another actor (we produced and starred in our own shows), I regularly applied for roles on Spotlight and Casting Call Pro and I gained paid work through people I knew. Sounds great, you might be thinking…
AND THE PROBLEM WAS?
Whilst I was getting work and starting to build some momentum, I was fumbling about taking on any old acting job to feel like I was being productive. The problem with taking on anything and everything is that I wasted a lot of time on projects that didn't really sell me. This boiled down to the fact that I didn't have a clear vision and I began to feel stuck and unhappy. As I began to feel unhappy the gaps between work grew.
My actions and lack of vision were placing limitations on my progression.
Looking back (and I didn't know this at the time), I was scared to go bigger (to the next step) because I didn't believe anyone would give me a chance, but I also didn't know where or what that next step was. This eventually led to me doing nothing. When I was doing nothing I also felt unhappy and as you can probably imagine, the acting work dried up pretty damn quick!
This story isn't unique to me, I come across many actors in similar situations. I wrote todays blog to help you get clear and end the frustration.
HOW TO BUILD MOMENTUM IN YOUR ACTING CAREER
I always bang on about this, but mindset is crucial. Make sure you have the belief that you can and will be a successful actor. You must work hard everyday to eliminate any limiting beliefs that will hold you back.
GET CRYSTAL CLEAR – if you don't know where you're heading how the heck are you going to get there? Once you know the specific success you're after it's much easier to work out the specific action you're going to need to get there. Remember this was my problem.
Take specific, focused action every single day. What are you going to have to do differently to what you've currently been doing and what everyone else is doing to get you to where you want to be?
Combine business with creativity. Many actors feel stagnant when they've not created art for a while and frustrated when they're not making progress. Think outside the box – brainstorm how you can still act regularly and at the same time be seen by those people who are able to open doors for you to achieve your vision
The final step is to commit to your vision. It's that commitment that will help you gain velocity. In all the books I have read on successful people – the one thing they do differently is get up early and make time to commit to their goals. What difference could getting up an hour earlier make to your acting career?
And that is the basics of how to gain momentum in your acting career. Have you got anything you would like to add? If so let me know in the comments box below.
Has this helped?
Let's chat in the comments area below. If you want to share these tips with your acting friends who you know would benefit, just hit the social media icons below.
Here's to your success!
Don't give up, just keep learning.

---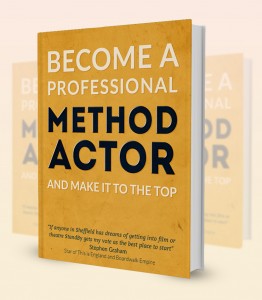 NEED MORE INSPIRATION & POWERFUL METHOD ACTING TIPS?
If you found these tips useful, you can grab yourself more completely FREE.
Louise O'Leary is a professional actress, method acting coach and Artistic Director of StandBy Method Acting Studio. Her mission is to help as many actors as she can launch their careers and become the best actor they can be.
Join the hundreds of actors around the world who have downloaded her FREE eBook "Become a professional Method Actor and make it to the top". Download here and be on your way to a successful acting career!
You can also head over to FACEBOOK to join in the daily conversations, receive inspirational advice and the most powerful method acting tips.