Many actors want to know the perfect age to start an acting career. I get lots of emails from people in their 30s/40s/50s/60s explaining to me how they've always wanted to become an actor, and now that they're finally in a position to follow their passion they're worried they've missed the boat.
Let me bust this myth that there is a "perfect age" to start an acting career. I'd also like to bust the myth that if you don't start in your teens or twenties there's no hope. Both of these myths are absolute codswallop.
If you're determined to carve out an acting career for yourself and are committed to doing everything in your power to make this happen, then the perfect age is NOW. Have you ever heard the saying that age is just a number?
Age is irrelevant
The age question is actually a cover up for something else – fear; a fear that you may put all of your efforts into acting with nothing to show for it, or the fear that people may think you're silly for following your dreams. Age is irrelevant for many reasons, but in reality, no matter where you are in your life everyone has these fears at some point.
Actors who started their careers later in life
Pete Postlethwaite
Ricky Tomlinson
Jason Statham
Alan Rickman
Brendan Gleeson
Liz Smith
Samuel L Jackson
And that's only a tiny list, there are many, MANY more actors who began their career later in life. So you see it is possible to start an acting career after your teens and twenties. If you're still not sure I'd urge you to read on because there's a few things older actors have that they can use to their advantage.
The advantages of starting an acting career "later in life"
LIFE EXPERIENCE – This is a HUGE plus considering acting asks you to draw upon your life experience to connect to the character's life. Not only that, but this will come in handy with the business side of acting too.
COMFORTABLE WITH WHO YOU ARE – The starting point in acting is knowing yourself. Once again it's important for empathising with characters, but it's equally important for the business side of acting. You'll be more at ease with yourself and less likely to get wrapped up in trying to be everything to everyone.
LESS COMPETITION – The acting industry is known for the heavy competition, but that lessens the older you get. A high percentage of those who started their careers in their teens and twenties drop out. This is a huge advantage for those actors at the older end of the scale.
FINANCIALLY SOUND – Those starting out in the industry earlier on in life either have to rely on parents or juggle a job alongside building an acting career, which can be tiresome and a massive struggle. This is one less thing to worry about when you're financially sound.
The perfect age to start an acting career
I'd like to leave you with this thought… no matter what age you are, time is the one thing nobody can physically buy. If you have a dream you must follow it now because if you don't follow it now, when will you?
If this has helped, or inspired you or you have anything else you would like to add let me know in the comments at the bottom of the page.
You can also share this with your acting friends by clicking the social media icons. It could be just the thing they need to help them get out of a funk.
Don't give up, keep learning to start earning!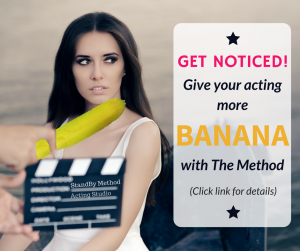 STOP BEING INVISIBLE & GET NOTICED!
Give your acting more banana
with
The Method
. Get iron-clad method acting techniques that will radically transform your acting in my FREE eBook worth £15 (
HERE
)
You can also join our method acting army over on FACEBOOK and be part of the acting movement, which I think you'll love!
Hope to see you there!