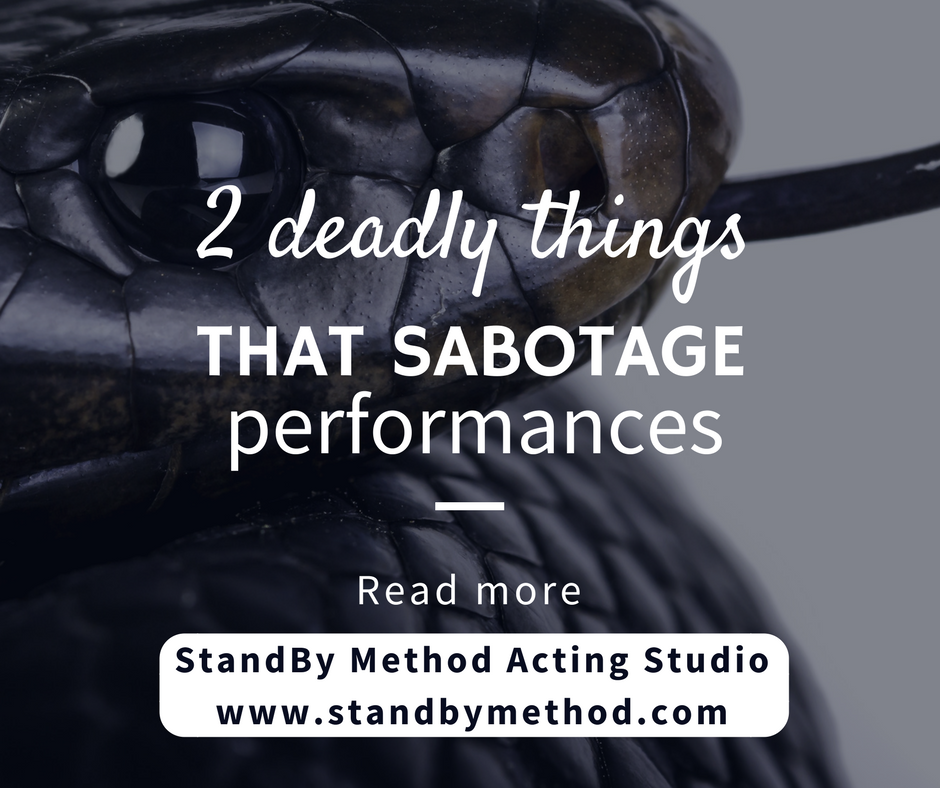 Think about what your performances are doing to you and your audiences… I'm asking because if your performances aren't MOVING you both there's a good chance they're stalling your progression. Many actors are chewed up and spat out by the two deadly things that sabotage performances, but before I share with you what they are, let's take a look at what makes up a sublime performance so you know what to replace them with.
THE SUBLIME PERFORMANCE…
Is made with the finest ingredients:
A spoonful of control (with an unnoticeable technique carrying it)
Dash of inner urgency/inner conflict
Sprinkling of imagination
Splash of vitality
Cupful of spontaneity
Slice of clarity (of expression)
Dash of uniqueness
A big dollop of focus
6 drops of relaxation
A tablespoon of colour
A peppering of intensity
All served nicely alongside a slather of natural talent.
A PERFORMANCE WITH THESE INGREDIENTS CAN NOT BE COPIED – imitated yes, but copied no! And the effect it has on both you and your audience is astounding; like your favourite cake, you'll both want more!
You're more than capable of giving a sublime performance, but we have to wipe out the two deadly things that sabotage performances first.
TWO DEADLY THINGS THAT SABOTAGE PERFORMANCES
First we should know how they sabotage performances. It's pretty simple: they stop actors taking risks, keep actors in their comfort zone (playing safe), take actors back to their default setting of acting, which shows up their bad acting habits and ensures the actor plays small resulting in a lack of stage/screen presence.
WHAT THE HELL ARE THEY?
The two deadly things that sabotage performances are fear and self-consciousness. They are the biggest dis-ease of an unsatisfied actor and audience.
Think about a time when you've been self-conscious during a performance, how did it affect it?
Think about a time when fear struck you during or before a performance, how did it affect it?
When these things affect your performance, it has a knock on effect to the audience.
DON'T WORRY
I have a bullet proof method acting tip that will help you start giving jaw-dropping performances.
>>FOCUS ON YOUR SCENE PARTNER<<
'Is that it?' I can hear you say. Yes, it really is that simple. Each time you place your focus there, you step away from being self-conscious and fearful of the performance.
To begin you may only be able to focus on your scene partner for a short amount of time before the self-consciousness and fear return – that's ok, as soon as you're aware they've returned, re-direct your attention back onto your scene partner. The more you do this, the better your performances will become.
With your attention firmly on your scene partner, magic begins to happen. Why? Because you start to listen, which in turn means you'll begin to respond truthfully.
And the art of acting is ___________
If you've found this article useful share it with your friends using the social media icons below and let me know in the comments at the bottom of the page.
Don't give up, just keep learning!
---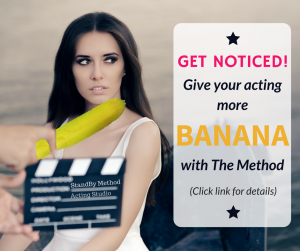 ACTORS!! GET NOTICED!
Give your acting more banana with The Method (HERE)
You can also join our method acting army over on FACEBOOK and be part of the acting movement, which I think you'll love!
Hope to see you there!