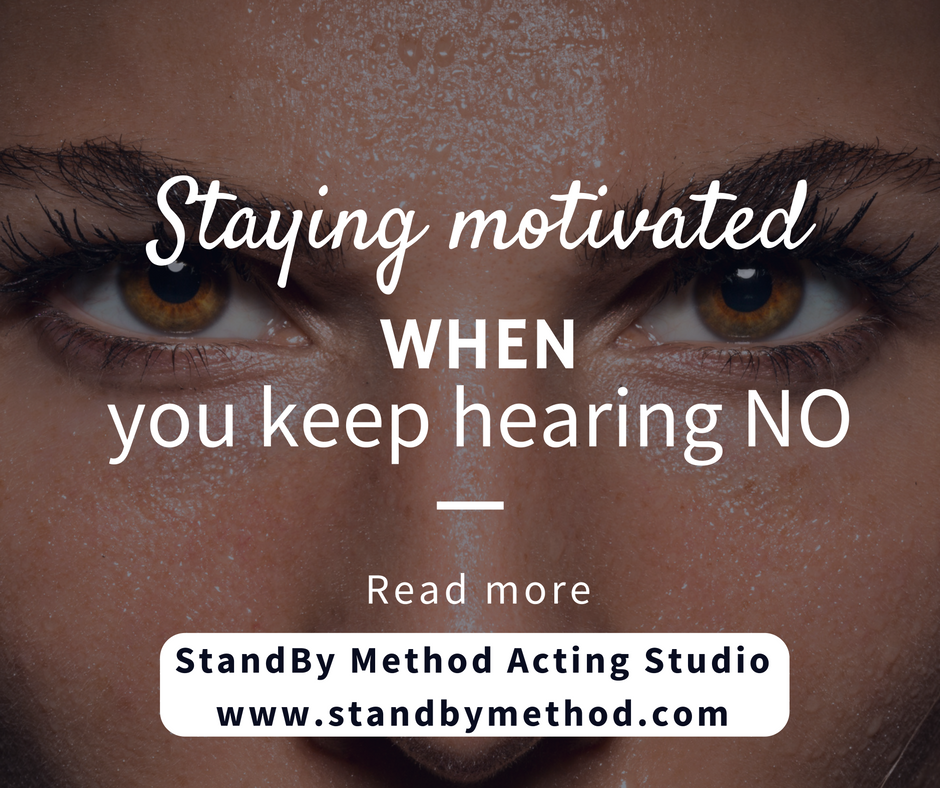 It can be difficult staying motivated when you keep hearing no. Lots of actors are sensitive (that's what makes them great actors), but it can also work against them at times. It can be difficult not to take it personally, or not to start questioning whether there's any point in continuing pursuing acting as a career, when it seems like very little progress is being made.
UPS AND DOWNS
Acting is one of those industries in which one day you may be feeling on top of the world; like you can move mountains, and the next you're struggling to find the motivation to keep going. I should point out that all actors experience this, but why?
PSYCHOLOGY OF MOTIVATION
From a very basic psychological viewpoint, the brain loves rewards. When it's not getting those rewards it likes, it doesn't see the purpose in continuing an activity it perceives as difficult. This explains why on the days you lack motivation you struggle to be productive. Think about the days when you're feeling on top of the world – you'll achieve more because the mind is enjoying what you are doing.
NEW HABITS
We know that it can take a long, long time to start seeing the "rewards" of the slog you put into the acting industry, so it's important to mention at this point that it is your mindset that needs working on. A little shift in those mental & physical habits can make a huge difference to your motivation levels and eventually your career.
Below are 10 things you can do to help your mindset, so that staying motivated when you keep hearing no becomes easier, rather than feeling like a chore.
STAYING MOTIVATED WHEN YOU KEEP HEARING NO
READ GOALS EVERY MORNING – It is so important to remind yourself of your goals each and everyday to stay focused, this is your life purpose. Without a reminder you will be more likely to procrastinate, which leads to lack of focus and takes you off track
VISUALISE ACHIEVING GOALS – As if you've already achieved them. This is what athletes do, because (the sciencey bit) the same neurons are fired in your brain that are fired when you've actually achieved what you desire. The downfall of the mind is that it doesn't know what's real and what isn't. By visualising your goals as if you've already achieved them you're impressing them into your sub-conscious mind (making them important), so your sub-conscious mind will start to filter out the unimportant stuff and make you pay attention to the things that are important for you to achieve your goals.
TAKE ACTION – With your goals in mind, set down the 3 most important things you must do each day to take you closer to achieving your goals AND DO THEM. A goal without action is just a dream.
STICK TO A PLAN – Schedules may seem monotonous, but lack of routine is what causes many actors to become distracted and fall off track. Discipline is KEY. Organise your day so that you're taking action to achieve your acting goals everyday without fail. Remember little steps lead you to your big goals. Don't overwhelm yourself by trying to achieve your big goals at once, break them down.
REVIEW GOALS EACH EVENING – Ask yourself if you're closer to your goals than you were in the morning. If you're not figure out why not and put a clear plan in place to achieve them. If you are well done and keep up the good work. It feels amazing and boosts your confidence knowing you're on track.
READ YOUR ACTING INSPIRATIONS STORY TO SUCCESS – It's important to read your acting idols story, not only for inspiration and motivation, but to understand the obstacles and challenges they also faced, which you'll be able to relate to.
BE AROUND PEOPLE WHO INSPIRE YOU – Being around the negative Nelly's of this world isn't going to inspire you and lift you, it's only going to get you down. Before you know it you'll have picked up their negative traits. We become like the 5 people we spend the most time with, so cut those negative Nelly's out or make a conscious choice to spend less time with them. Feed off of the energy of people who are inspiring and successful, it's infectious.
LOOK AFTER YOURSELF – self care is so important. You can't possibly stay motivated and fight fit if you're not looking after yourself. Self-care includes having a nutritious diet (cut back on the sugar), enough sleep, drinking plenty of water, exercising and looking after your mind (whether that be through meditation, brain re-training or mindfulness). Successful people lead such busy lifestyles that if they don't look after themselves they will simply burn out. The same will happen to you too if you don't put self-care as a number 1 priority.
BOOK OF POSITIVITY – In a notebook take the time to write out all of the positive reviews, testimonials and compliments you have received for your acting. When you're feeling de-motivated read these as a great boost to spur you back into action.
LIVE LIFE – Thinking of nothing but acting borders on obsession, which is not healthy. Find a hobby you enjoy, spend time with the people you love most, do things that take you out of your comfort zone or find a way to raise money for charity, which will benefit the charity and help you feel good too. You need something other than acting to focus on or you will drive yourself insane. You also have to live life because a) it's so short and b) to be a good actor you need life experience.
If you're finding it difficult to stay motivated print these tips off and USE THEM. You can only turn your lack of motivation around by doing something about it. Take control of your life rather than using your lack of progression as an excuse to do nothing.
Has this helped?
Let me know in the comments box at the bottom of the page, or share with a friend who needs to re-discover their mojo.
Here's to your success!
Don't give up, just keep learning.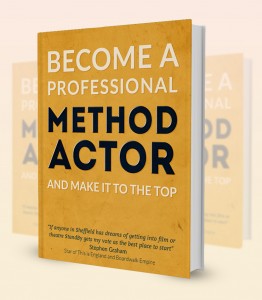 NEED MORE INSPIRATION & POWERFUL METHOD ACTING TIPS?
 If you found these tips useful, you can grab yourself more completely FREE.
Louise O'Leary is a professional actress, method acting coach and Artistic Director of StandBy Method Acting Studio. Her mission is to help as many actors as she can launch their careers and become the best actor they can be.
Join the hundreds of actors around the world who have downloaded her FREE eBook "Become a professional Method Actor and make it to the top". Download here and be on your way to a successful acting career!
You can also head over to FACEBOOK to join in the daily conversations, receive inspirational advice and the most powerful method acting tips.